The Caldwell Catalogue
Telrad® Finder Charts.
The Caldwell Catalogue is a list of 109 objects covering both hemispheres that were not listed by Messier.
The list was compile by the great British amateur astronomer Patrick Caldwell Moore. As Messier's list has been dubbed the 'M' objects, Patrick Moore opted to use his middle name. So here we have the 'C' objects.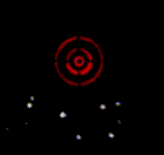 The Telrad® is a zero magnification finder that projects a set of three concentric red illuminated circles onto a sloping glass plate through which the observer sights on the sky.

These charts can be printed out (in your browser's File->Page Setup menu, make sure to set your left and right margins to 0.25" or less) and used with the aid of a Telrad® finder to locate the objects in the Caldwell Catalogue.
The charts have been printed so that the faintest stars visible on them are magnitude 5. This should give a reasonable representation of what a Telrad® user will see.


D. Parkin &
S.J. Wainwright. March 1999.
---
---